A Global Communications & Brand Consultancy

| | |
| --- | --- |
| Posted on January 18, 2014 at 11:06 AM | |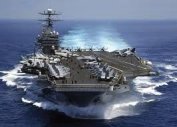 You might ask:  What does the US Navy aircraft carrier USS Carl Vinson have to do with public relations and social media?   Well, I'm going to tell you...
Next week, I'm joining a group of social media experts to spend 24 hours on CVN-70, one of America's nuclear-powered aircraft carriers, as part of the Navy's
Distinguished Visitors Program
.   The Navy will tell you that the DV Program is a great way to expose people to the Navy's mission and its amazing team, and that it has been bringing visitors to Navy ships for years...which is true.  
But thanks to the efforts of some very savvy and smart people, the DV Program has become a "best practices" example of the power of social media and public relations.   Corporate communications professionals should take note, because the Navy has done something really powerful.  Now the Navy, under the direction of Steve Fiebing, Deputy Public Affairs Officer for the Commander, Naval Air Forces - Pacific, US Pacific Fleet, and working closely with Dennis Hall (
@AvereGroup
), has leveraged the DV Program to bring social media experts and bloggers out to US Navy ships underway, understanding that those bloggers could extend the reach of Navy PR programs to thousands, tens of thousands, and potentially even hundreds of thousands of new readers using the power of social media.   
Conceived with the cooperation of renowned social media expert
Guy Kawasaki
, Dennis helped the Navy understand how the DV Program could create embark opportunities for bloggers that could extend awareness of the Navy's mission and people, and help a much wider audience gain an appreciation for how America extends freedom and strength globally on the high seas.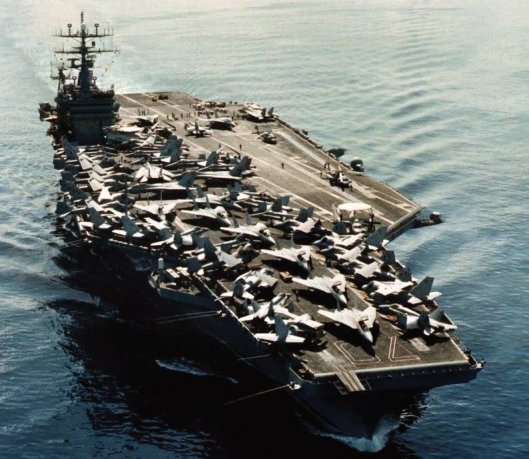 Next week, I will join a group of social media thought leaders and spend 24 hours on the USS Carl Vinson, now undergoing training exercises off the California Coast.   Just underway after departing its home port of San Diego earlier this month, CVN-70 is one of the world's largest ships, home to 5,000 men and women, and 60+ aircraft.  This ship is 1,092 feet long, and is as wide as 252 feet on her flight deck...and can move faster than 35 miles per hour (30+ knots). Part of the Nimitz class of ships, the USS Carl Vinson is powered by two nuclear reactors and cost more than $4.5 billion to construct.  You may remember the ship as the carrier to which Osama Bin Laden's remains were taken for
burial at sea
 .  (For more information on the Navy's aircraft carriers, click
here
and you can also visit CVN-70 at their Facebook
page
and Twitter
account
).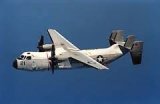 The blogger group I will be joining will gather at the base in San Diego at
Coronado 
 and board a
C-2a Greyhound
cargo plane to be flown to CVN-70 and we'll land aboard "catching the wire" just like can be seen in this
video
.   
For 24 hours, we'll observe the officers and crew of the carrier conduct flight operations and operate this massive symbol of America's global power while underway.  I hope to learn a lot about how this crew handles fire and EMS emergencies on board, and share those stories with my friends back at the
West Grove Fire Company
where I serve as volunteer firefighter and EMT.  
And when our 24 hours is complete, we'll get strapped back into our Greyhound and get catapulted off the bow of CVN-70 for the flight back to San Diego, just like
this
 (note how the wings are unfolded just before take off, and, yes, I'm nervous).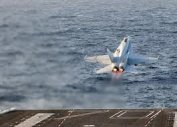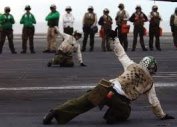 I'm honored to be selected and even more honored to get to experience 24 hours with the men and women of the USS Carl Vinson.  Everyday, around the world, sailors of the US Navy are conducting operations while we go about our daily business.  Most of the time (except in times of crisis), their mission is largely invisible to all of us, which is why the DV Program is such an exceptional public relations concept -- allowing those of us with a global social media platform to tell their story from behind the scenes.  
Embedding people into the Navy's daily life and allowing those people to discuss their experiences on a broad scale will help so many gain a better understanding of the Navy's mission.  This is exactly the kind of approach that demonstrates the power and scale of social media.   And this approach is not only outstanding for the Navy, it works in the corporate world as well.
My friend
Mark Yolton
who introduced me to Dennis is a social media guru from the Silicon Valley.  He now works at Cisco, but was a co-worker with me at SAP years ago. Mark helped build SAP's online community (
SAP Community Network
) of developers at SAP (numbering in excess of one million members).  
Mike Prosceno
 worked with me at SAP in Corporate Communications an developed a blogger relations program that became a power voice for SAP (and a respected best-practices approach to social media in the IT industry).  Both Mike and Mark taught me a lot about what I know in social media --- but also demonstrated to me how social media can be an amazing way to extend the reach of traditional communications programs for large companies (just the way the US Navy is using blogger embarks and the DV Program to extend their reach via social media).  
Next week I'll be joined by:
Already these professionals have begun communicating about our pending visit to America's Favorite Carrier (as the USS Carl Vinson is known).  You can find our tweets and blogs at this hashtag:  
  I encourage you to read their stories and extend our voices with your own comments, retweets and blogs.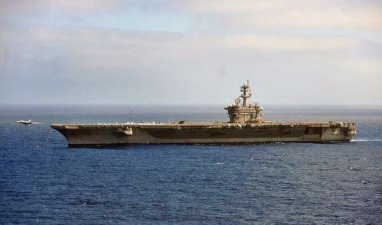 Back when I was just a little boy, my mother and father operated a business known as Howard Wohl Associates.  They had the Navy as a major client, producing cruise books for aircraft carriers (think of them as like high school yearbooks done for each of the ships' deployments).  So visiting CVN-70 is a bit like "coming home" for me now as Wohl Communications.  I never have visited a carrier even in port, and I know that flying out to one is a rare experience for a civilian. I look forward to sharing the experience with my followers.
More importantly, I look forward to highlighting how the Navy does
[email protected]
and how those lessons can be applied by companies and organizations around the world.   Stay tuned -- it's gonna be good!

Bill
Categories: None
/